LAVERDA 1000-3CL
1000 Jota, 1200; Alpino and 500 (1978-1982)
Engine
Service Refill Capacity: 2.5, 3.0 Litres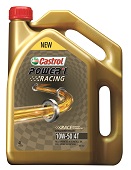 CASTROL POWER 1 RACING 4T 10W-50
best
Castrol POWER1 Racing 4T 10W-50 is a fully synthetic engine oil for modern, high performance 4-stroke sports bikes that increases engine acceleration and power right up to maximum rpm.Castrol POWER1 Racing 4T, using 'Race Derived Technology' based on Castrol's long and successful racing association, flows fast and stays strong, reducing internal engine friction even under the most arduous riding conditions.It has been tested and proven to deliver exceptional acceleration and power at the touch of the throttle.The added Castrol advantage of Trizone TechnologyTM ensures uncompromised performance protection - ultimate performance for extreme riding.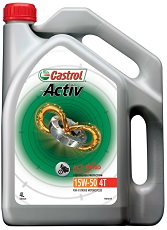 CASTROL ACTIV 4T 15W-50
better
Castrol Activ 4T 15W-50 modern, high quality engine oil developed specifically for 4-stroke motorcycle engines. Castrol Trizone Technology™ protects the engine, clutch and gears and allows the best functionality of these three critical areas of the motorcycle.
Recommendations are for Passenger Cars Only.
Not all vehicles will have a recommendation.
ANY QUERIES REGARDING YOUR REGO2OIL LUBRICANT RECOMMENDATION OR FOR FURTHER ASSISTANCE CALL THE CASTROL TECHNICAL HELPLINE ON 1300 557 998