HUSQVARNA [2-Stroke] TE150i (2019-2022)
Engine
Service Refill Capacity: 0.6 Litres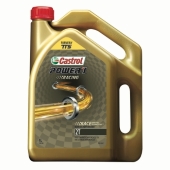 CASTROL POWER 1 RACING 2T
Castrol Power 1 Racing 2T is an advanced, fully synthetic 2-stroke engine oil for use in modern, high speed, high performance 2-stroke engines. Its fast burn, high protection formula is designed to release the full potential from highly tuned motorcycle engines. Castrol Power 1 Racing 2T is suitable for all modern, high performance 2-stroke motorcycle engines from European and Japanese manufacturers. It is designed for both oil injection and pre-mix lubrication, as per manufacturers' instructions, up to a fuel/oil ratio of 50:1.
Transmission
Service Refill Capacity: 0.8 Litres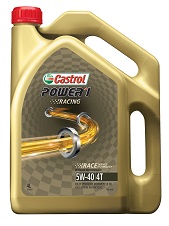 CASTROL POWER 1 RACING 4T 5W-40
A full synthetic four-stroke SAE 5W-40 engine oil suitable for use in high performance and competition four-stroke, Japanese and European motorcycle engines, including all high performance multi-cylinder, multi-valve, V-Twin, air or water-cooled sports or race replica models. Castrol Power 1 Racing has a race proven formula that demonstrates outstanding clutch friction control, gear wear control, engine wear protection and cleanliness in competition applications. Exceeds JASO MA, MA2 and API SJ.
Front Forks
Service Refill Capacity: 0.6 Litres each
Brake
CASTROL REACT PERFORMANCE DOT 4
Is suitable for use in all brake fluid systems in cars, and light commercial vehicles requiring either a DOT 3, DOT 4 or Super DOT 4 product (Not suitable for use where a mineral oil based fluid is specified).
Radiator
Service Refill Capacity: 1.2 Litres
Recommendations are for Passenger Cars Only.
Not all vehicles will have a recommendation.
ANY QUERIES REGARDING YOUR REGO2OIL LUBRICANT RECOMMENDATION OR FOR FURTHER ASSISTANCE CALL THE CASTROL TECHNICAL HELPLINE ON 1300 557 998