EBR 1190SX (2014-2017)
Engine
Service Refill Capacity: 3.1* Litres (Includes oil filter)
Brake
CASTROL REACT PERFORMANCE DOT 4
Is suitable for use in all brake fluid systems in cars, and light commercial vehicles requiring either a DOT 3, DOT 4 or Super DOT 4 product (Not suitable for use where a mineral oil based fluid is specified).
Radiator
Service Refill Capacity: 2.5 Litres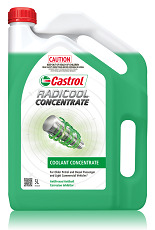 CASTROL RADICOOL CONCENTRATE
A fully formulated, ethylene glycol based coolant designed to meet the requirements of the majority of cars and light commercial vehicles with petrol and diesel engines. Use at 30 - 50% concentration as recommended by the vehicle manufacturer.
Recommendations are for Passenger Cars Only.
Not all vehicles will have a recommendation.
ANY QUERIES REGARDING YOUR REGO2OIL LUBRICANT RECOMMENDATION OR FOR FURTHER ASSISTANCE CALL THE CASTROL TECHNICAL HELPLINE ON 1300 557 998