HYUNDAI Mighty EX8
3.9 Litre Turbo Diesel Euro V (2017-2022)
Crankcase
Service Refill Capacity: 14* Litres (Includes oil filter)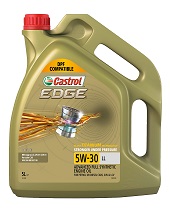 CASTROL EDGE 5W-30 LL
best
Castrol EDGE 5W-30 LL with Fluid TITANIUM is an advanced full synthetic engine oil suitable for use in a wide range of vehicles included those fitted with Diesel Particulate Filters (DPF).Giving you the confidence to demand maximum engine performance from today's latest technology, highly engineered engines that operate with tighter tolerances, requiring a high level of protection and low viscosity oils.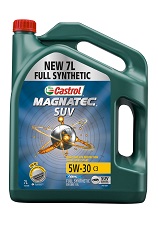 CASTROL MAGNATEC SUV 5W-30 C3
better
Unlike many cars, your SUV does everything - from short trips dropping the children off in town, to long distance journeys carrying heavy luggage, even towing a trailer when needed - all of this across a variety of terrain. That's why we developed Castrol MAGNATEC SUV 5W-30 C3, the oil that does everything too ! With intelligent molecules that cling to the engine like a magnet providing an extra layer of protection. Castrol MAGNATEC SUV 5W-30 C3 is proof against the rigours of modern driving, and delivers dramatically better protection from warm-up(1), and up to 25% better stop-start(2) and heavyload wear(3) protection.1 Tested vs the Sequence IVA API SN wear limit.2 Tested vs the CEC OM646LA wear limits.3 Tested vs the Sequence IIIG API SN wear limit.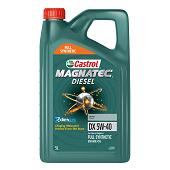 CASTROL MAGNATEC DIESEL DX 5W-40
good
Castrol MAGNATEC Diesel 5W-40 combines DPF compatible technology with intelligent molecules for an extra layer of protection, reducing wear during the critical warm-up period. Provides superior performance under extreme cold start-up conditions compared to thicker grades, has excellent soot handling performance minimises oil thickening and exceeds the most demanding limits in latest industry standard diesel protection test. Is suitable for SUV, 4WD and most cars fitted with Diesel Particulate Filters, including Hyundai vehicles with DPF. Meets and exceeds API SN/CF, ACEA C3, Dexos™ 2.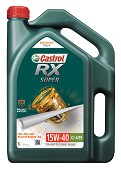 CASTROL RX SUPER 15W-40 CJ-4/E9
Castrol RX Super 15W-40 CJ-4/E9 is an advanced, heavy duty diesel engine oil. It is suitable for use in high speed 4-stroke diesel engines that use a broad range of fuel qualities. It is compatible with diesel engines fitted with EGR and the latest exhaust after treatment systems such as; DPF, DOC and/or SCR.
Manual Transmission
Service Refill Capacity: 5.0, 5.4 Litres
Differential
Service Refill Capacity: 4.5-6.2 Litres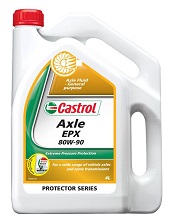 CASTROL AXLE EPX 80W-90
Extreme pressure, multi-purpose gear oil designed for the protection of heavily loaded steel gears. It is recommended for use in differentials, gear boxes and steering gears of passenger cars, light trucks, farm tractors and earthmoving equipment
Power Steering
Service Refill Capacity: 1.2 Litres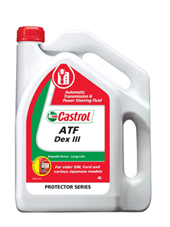 CASTROL ATF DEX III
An automatic transmission and power steering fluid for use in GM automatic transmissions pre 2005 and in many automatic transmissions where DEXRON® (II or III) or MERCON® performance is required.
Brake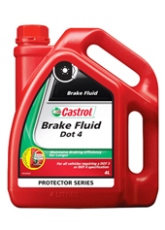 CASTROL BRAKE FLUID DOT 4
best
Suitable for use in all brake fluid systems in cars, motorcycles and light commercial vehicles requiring either a DOT 3 or DOT 4 product (Not suitable for use where a mineral oil based fluid is specified).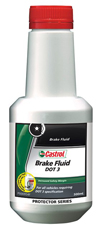 CASTROL BRAKE FLUID DOT 3
better
A heavy duty brake fluid suitable for use in disc and drum brakes where a dot 3 fluid is required.
Radiator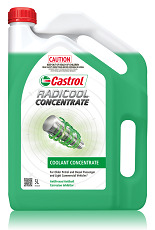 CASTROL RADICOOL CONCENTRATE
A fully formulated, ethylene glycol based coolant designed to meet the requirements of the majority of cars and light commercial vehicles with petrol and diesel engines. Use at 30 - 50% concentration as recommended by the vehicle manufacturer.
Recommendations are for Passenger Cars Only.
Not all vehicles will have a recommendation.
ANY QUERIES REGARDING YOUR REGO2OIL LUBRICANT RECOMMENDATION OR FOR FURTHER ASSISTANCE CALL THE CASTROL TECHNICAL HELPLINE ON 1300 557 998