HYUNDAI iMax (TQ)
2.4 Litre DOHC Eng., Automatic (2008-2011)
Crankcase
Service Refill Capacity: 4.3* Litres (Includes oil filter)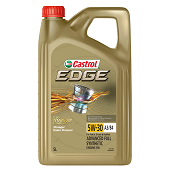 CASTROL EDGE 5W-30 A3/B4
best
Castrol EDGE 5W-30 A3/B4 with Fluid TITANIUM is the natural choice for drivers who demand maximum engine performance from today's modern vehicles requiring a high level of protection and higher performance oils.Today's engines continually push the boundaries of technology and engineering. They are smaller and ultra-efficient, without sacrificing performance. It transforms its physical structure to be stronger under pressure to keep metal surfaces apart and reduces friction for maximum engine performance when you need it most.Suitable for use in automotive petrol and diesel vehicles, where the manufacturer recommends an ACEA A3/B4, API SL/CF or earlier specification 5W-30 lubricant.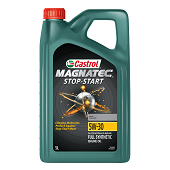 CASTROL MAGNATEC STOP-START 5W-30
better
Today even a normal driver can stop and start as many as 18,000 times a year. All that idling in traffic causes microscopic wear in your engine. In the latest industry test, Castrol MAGNATEC STOP-START 5W-30 gives significantly less wear in stop-start operation (as tested in the industry OM646LA test). Castrol MAGNATEC Stop-Start 5W-30 is suitable for use in automotive petrol and diesel engines where the manufacturer recommends an API SN, ACEA A3/B3, A3/B4 or earlier specification 5W-30 lubricant.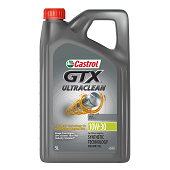 CASTROL GTX ULTRACLEAN 10W-30
good
Replaces GTX MODERN ENGINE 10W-30. Castrol GTX ULTRACLEAN 10W-30 is suitable for use in automotive gasoline engines where the manufacturer recommends an API SN, ILSAC GF-5 or earlier specification 10W-30 lubricant. Sludge, varnish and carbon can shorten your engine's life dramatically and even lead to engine failure. GTX ULTRACLEAN 10W-30, our cleanest GTX ever, can not only extend the life of your engine but provides you with the highest grading of fuel economy yet. Provides 50% superior sludge protection compared to tough API SN requirements.
Automatic Transmission
Service Refill Capacity: 8.0 Litres
CASTROL TRANSMAX MULTIVEHICLE
A premium synthetic automatic transmission fluid specifically designed for use in vehicles with automatic transmissions made by Asian vehicle and transmission manufacturers which typically have higher anti-shudder performance requirements than most European or US designed automatic transmissions. Castrol Transmax Multivehicle was designed to meet the Japanese Automobile Standards Organisation performance needs (JASO 1A) which is recognised by most Japanese Automobile Manufacturers.
Differential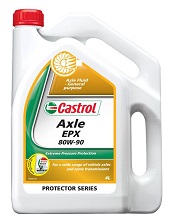 CASTROL AXLE EPX 80W-90
Extreme pressure, multi-purpose gear oil designed for the protection of heavily loaded steel gears. It is recommended for use in differentials, gear boxes and steering gears of passenger cars, light trucks, farm tractors and earthmoving equipment
Power Steering
Service Refill Capacity: 0.9-1.0 Litres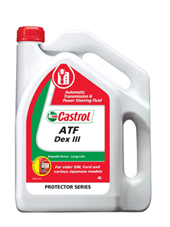 CASTROL ATF DEX III
An automatic transmission and power steering fluid for use in GM automatic transmissions pre 2005 and in many automatic transmissions where DEXRON® (II or III) or MERCON® performance is required.
Radiator
Service Refill Capacity: 10.2 Litres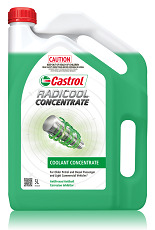 CASTROL RADICOOL CONCENTRATE
A fully formulated, ethylene glycol based coolant designed to meet the requirements of the majority of cars and light commercial vehicles with petrol and diesel engines. Use at 30 - 50% concentration as recommended by the vehicle manufacturer.
Brake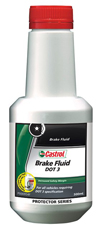 CASTROL BRAKE FLUID DOT 3
best
A heavy duty brake fluid suitable for use in disc and drum brakes where a dot 3 fluid is required.
CASTROL REACT PERFORMANCE DOT 4
better
Is suitable for use in all brake fluid systems in cars, and light commercial vehicles requiring either a DOT 3, DOT 4 or Super DOT 4 product (Not suitable for use where a mineral oil based fluid is specified).
Recommendations are for Passenger Cars Only.
Not all vehicles will have a recommendation.
ANY QUERIES REGARDING YOUR REGO2OIL LUBRICANT RECOMMENDATION OR FOR FURTHER ASSISTANCE CALL THE CASTROL TECHNICAL HELPLINE ON 1300 557 998