LEXUS LS400
4.0 Litre 1UZ-FE VVTi V8 Eng. Automatic (1997-2000)
Crankcase
Service Refill Capacity: 5.6* Litres (Includes oil filter)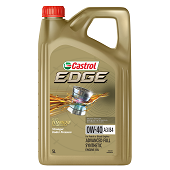 CASTROL EDGE 0W-40 A3/B4
best
Castrol EDGE 0W-40 A3/B4 with Fluid TITANIUM is formulated for prestige and high performance engines in both petrol and diesel passenger*, light commercial vehicles, naturally aspirated or turbocharged.The exceptional characteristics of Castrol EDGE 0W-40 A3/B4 ensure that all engine components, from the valve train to the bearings are fully lubricated to provide optimum engine performance. Designed to run at their optimum level on lower viscosity oils, where the manufacturer recommends an ACEA A3/B4, API SN or earlier specifcation 0W-40 lubricant.* Excludes diesel passenger vehicles fitted with Diesel Particulate Filters (DPF).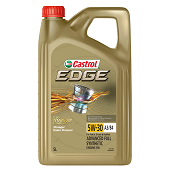 CASTROL EDGE 5W-30 A3/B4
better
Castrol EDGE 5W-30 A3/B4 with Fluid TITANIUM is the natural choice for drivers who demand maximum engine performance from today's modern vehicles requiring a high level of protection and higher performance oils.Today's engines continually push the boundaries of technology and engineering. They are smaller and ultra-efficient, without sacrificing performance. It transforms its physical structure to be stronger under pressure to keep metal surfaces apart and reduces friction for maximum engine performance when you need it most.Suitable for use in automotive petrol and diesel vehicles, where the manufacturer recommends an ACEA A3/B4, API SL/CF or earlier specification 5W-30 lubricant.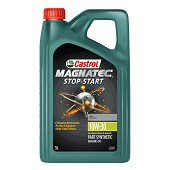 CASTROL MAGNATEC STOP-START 10W-30
good
Do you drive in busy traffic? Choose Castrol MAGNATEC STOP-START 10W-30 part synthetic engine oil. The Intelligent Molecules will protect your engine from the moment you start, every time you start, dramatically reducing stop-start wear (versus industry limit in the OM646LA engine test). Suitable for use in automotive petrol and diesel engines where the manufacturer recommends an API SN, ACEA A3/B3, A3/B4 or earlier specification 10W-30 lubricant.
Automatic Transmission
Service Refill Capacity: 1.9, 2.4 Litres
CASTROL TRANSMAX DEXRON®-VI MERCON® LV
A technologically advanced, low viscosity formulation specially designed to deliver performance and maximum fuel efficiency for modern automatic transmissions. It is fully approved by GM for use in all their passenger car automatic transmissions and by Ford for use in their vehicles requiring the latest ATF specification. It also exceeds the requirements of the JASO 1A performance standard created by Japanese automobile manufacturers.
Differential
Service Refill Capacity: 1.35 Litres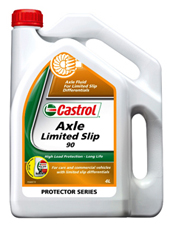 CASTROL AXLE LIMITED SLIP 90
best
Mineral gear oil recommended for cars and commercial vehicle axles operating under higher frictional loads, especially limited slip differentials and those experiencing clutch chatter. Meets Mack GO-J quality thermal stability requirement. SAE 90, API GL5

CASTROL SYNTRAX 80W-140
better
Full synthetic rear axle fluid incorporating Castrol's most advanced transmission fluid technology. Engineered to provide protection at the extremes of high and low operating temperatures, it is our prime recommendation for rear axles used in competition, severe duty and long drain applications. Suitable for both limited and non-limited slip rear axles. SAE 80W-140, API GL5/6.
Power Steering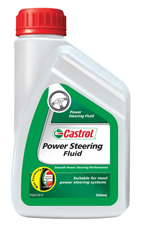 CASTROL POWER STEERING FLUID
A mineral based fluid suitable for most power steering systems where the following specifications are nominated: Dexron®, Dexron® II & Dexron® III, SAE 10W or 10W-20 engine oil, ISO 32 or 46 hydraulic oil, Ford M2C-33 F/G, Ford M2C-138 CJ, Ford M2C-166H, Ford Mercon, Ford SQM-2C-9010A and Mitsubishi Power Steering Fluid.
Brake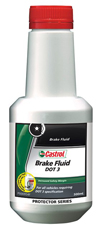 CASTROL BRAKE FLUID DOT 3
A heavy duty brake fluid suitable for use in disc and drum brakes where a dot 3 fluid is required.
Radiator
Service Refill Capacity: 8.8 Litres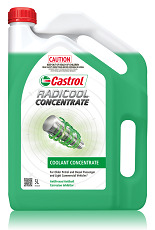 CASTROL RADICOOL CONCENTRATE
A fully formulated, ethylene glycol based coolant designed to meet the requirements of the majority of cars and light commercial vehicles with petrol and diesel engines. Use at 30 - 50% concentration as recommended by the vehicle manufacturer.
Recommendations are for Passenger Cars Only.
Not all vehicles will have a recommendation.
ANY QUERIES REGARDING YOUR REGO2OIL LUBRICANT RECOMMENDATION OR FOR FURTHER ASSISTANCE CALL THE CASTROL TECHNICAL HELPLINE ON 1300 557 998