HORWOOD BAGSHAW (Also see SHEARER) [Combine Harvesters and Headers] E5160 Combine Harvester
Crankcase - V8 Diesel Engine
Service Refill Capacity: 35 Litres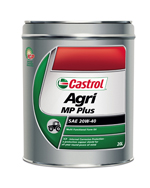 CASTROL AGRI MP PLUS 20W-40
A quality multi-purpose oil suitable for a wide range of farm applications. Delivering performance and protection for engines, transmissions, wet brakes, hydraulics and front axles. It has also been formulated as a gear lubricant and is ideally suited as a 'heavy weight' anti-squawk tractor transmission fluid and as a hydraulic fluid in most farm machinery.
Hydraulic Res.
Service Refill Capacity: 45 Litres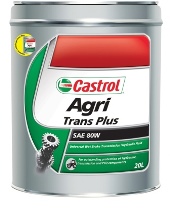 CASTROL AGRI TRANS PLUS 80W
A multipurpose, wet brake transmission fluid for use in hydraulics, transmissions and PTOs. Its SAE 10W-30 viscosity rating makes it particularly suited to regions with cooler climates and where a lighter viscosity lubricant is recommended.
Final Drives - Wheel Drive Gear Cases
Service Refill Capacity: 6.2, 7.2 Litres each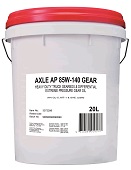 CASTROL AXLE AP 85W-140
For use in most passenger car, light & heavy duty truck differentials, final drives, non synchronised manual transmissions, steering gears & other applications where API GL-5, API MT-1 or SAE J2360 performance is required.
Recommendations are for Passenger Cars Only.
Not all vehicles will have a recommendation.
ANY QUERIES REGARDING YOUR REGO2OIL LUBRICANT RECOMMENDATION OR FOR FURTHER ASSISTANCE CALL THE CASTROL TECHNICAL HELPLINE ON 1300 557 998