HARDI [Sprayers] Alpha Evo
Crankcase - Deutz TCD 2012 L06 Turbo Diesel Tier III
Service Refill Capacity: 17* Litres (Includes oil filter)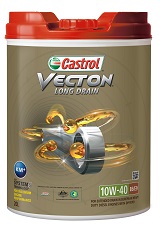 CASTROL VECTON LONG DRAIN 10W-40 E6/E9
Castrol Vecton Long Drain 10W-40 E6/E9 is a full synthetic low SAPS engine oil formulated with unique System Pro Technology™ for up to 40% better performance (vs API and ACEA industry standard limits). It is also engineered for extended oil drain2 in the latest European diesel engines including Euro 6 and engines fitted with DPF, in accordance with OEM specifications. It can also be used in low emission Euro 4 & Euro 5 European trucks and buses, especially those requiring a low SAPS lubricant and in older on-road and off-road vehicles and equipment that require this performance level.
Transmission - Hydrostatic Trans.
Hyd. System
Service Refill Capacity: 60 Litres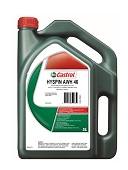 CASTROL HYSPIN AWH 46
A high quality, mineral oil based hydraulic fluid enhanced by incorporating anti-wear, anti-oxidation, anti-foam and anti corrosion additives. The addition of a viscosity index improver enables the product to operate under a wide range of temperatures without loss of viscosity. Meets the requirements of modern hydraulic equipment operating under medium to severe service conditions over a wide temperature range.
Radiator
Service Refill Capacity: 20.0 Litres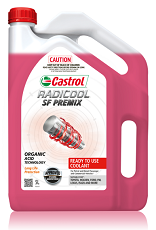 CASTROL RADICOOL SF PREMIX
best
Castrol Radicool SF Premix is a long-life ready to use coolant based on monoethylene glycol with advanced organic acid inhibitor technology free from amines, nitrites, phosphates, silicates or other inorganic inhibitors. Especially suitable for use in engines employing cast iron, aluminium , copper or combinations of these metals used in modern engine designs. This product requires no customer dilution therefore ensures the correct concentration is always used.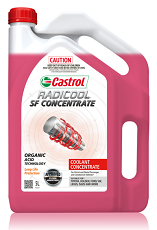 CASTROL RADICOOL SF
better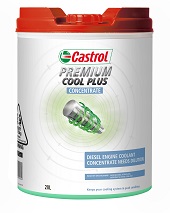 CASTROL PREMIUM COOL PLUS
good
A fully formulated, ethylene glycol based coolant designed to meet the requirements of the majority of commercial diesel engines. Use at 50% concentration as recommended by the vehicle manufacturer.
Grease - General Lubrication

CASTROL AGRI GREASE ULTRA
A high performance grease for a wide range of farm and associated machinery applications, including cars, trucks, 4WDs, pumps etc. It has been proven in the field as a performer in severe duty applications, protecting ball and roller bearings, especially on-land/on-road, high load applications. It is also suitable for general chassis greasing, ball joints, CV joints and other plain bearing lubrication.
Recommendations are for Passenger Cars Only.
Not all vehicles will have a recommendation.
ANY QUERIES REGARDING YOUR REGO2OIL LUBRICANT RECOMMENDATION OR FOR FURTHER ASSISTANCE CALL THE CASTROL TECHNICAL HELPLINE ON 1300 557 998