NOREMAT [Slasher] Optima 51/ M51/ M56/ M57T/ 60T
Hydraulic Res.
Service Refill Capacity: 70 Litres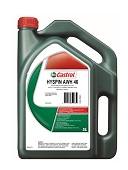 CASTROL HYSPIN AWH 46
A high quality, mineral oil based hydraulic fluid enhanced by incorporating anti-wear, anti-oxidation, anti-foam and anti corrosion additives. The addition of a viscosity index improver enables the product to operate under a wide range of temperatures without loss of viscosity. Meets the requirements of modern hydraulic equipment operating under medium to severe service conditions over a wide temperature range.
Grease - General Lubrication Points

CASTROL AGRI GREASE ULTRA
A high performance grease for a wide range of farm and associated machinery applications, including cars, trucks, 4WDs, pumps etc. It has been proven in the field as a performer in severe duty applications, protecting ball and roller bearings, especially on-land/on-road, high load applications. It is also suitable for general chassis greasing, ball joints, CV joints and other plain bearing lubrication.
Recommendations are for Passenger Cars Only.
Not all vehicles will have a recommendation.
ANY QUERIES REGARDING YOUR REGO2OIL LUBRICANT RECOMMENDATION OR FOR FURTHER ASSISTANCE CALL THE CASTROL TECHNICAL HELPLINE ON 1300 557 998