NEW HOLLAND (Also see FIAT, FORD, VERSATILE) [Stackcruisers®/ liners, Foragers, Hayliners®] 283
317, 417, 425, 426 PTO Type
Other Gearbox(s)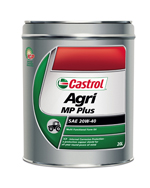 CASTROL AGRI MP PLUS 20W-40
A quality multi-purpose oil suitable for a wide range of farm applications. Delivering performance and protection for engines, transmissions, wet brakes, hydraulics and front axles. It has also been formulated as a gear lubricant and is ideally suited as a 'heavy weight' anti-squawk tractor transmission fluid and as a hydraulic fluid in most farm machinery.
Hydraulic Res.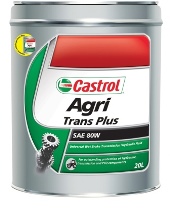 CASTROL AGRI TRANS PLUS 80W
A multipurpose, wet brake transmission fluid for use in hydraulics, transmissions and PTOs. Its SAE 10W-30 viscosity rating makes it particularly suited to regions with cooler climates and where a lighter viscosity lubricant is recommended.
Recommendations are for Passenger Cars Only.
Not all vehicles will have a recommendation.
ANY QUERIES REGARDING YOUR REGO2OIL LUBRICANT RECOMMENDATION OR FOR FURTHER ASSISTANCE CALL THE CASTROL TECHNICAL HELPLINE ON 1300 557 998