KAWASAKI [Utility Vehicles] Mule 3000 4x4 (KAF620G)
Crankcase
Service Refill Capacity: 1.8* Litres (Includes oil filter)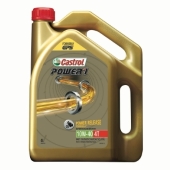 CASTROL POWER 1 4T 10W-40
best
Castrol POWER 1 4T 10W-40 is a part synthetic engine oil developed for the latest generation 4-stroke motorcycle engines. POWER 1 4T with Power Release Formula is designed specifically for bikers who love the exhilaration of riding. It is designed to enable your bike to deliver maximum and sustained power right up to very high operating rpm thus offering a significant advantage over other motorcycle engine oils. The forumation reduces internal losses in the engine, whilst retaining optimum wet clutch performance to ensure efficient transfer of power to the rear wheel. It is suitable for all makes of 4-stroke bikes, both carbureted and fuel injected where API SL (and earlier) and JASO MA or MA2 specifications are recommended.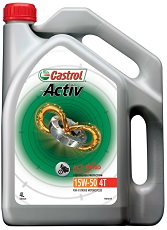 CASTROL ACTIV 4T 15W-50
better
Castrol Activ 4T 15W-50 modern, high quality engine oil developed specifically for 4-stroke motorcycle engines. Castrol Trizone Technology™ protects the engine, clutch and gears and allows the best functionality of these three critical areas of the motorcycle.
Trans./Diff.
Service Refill Capacity: 2.2 Litres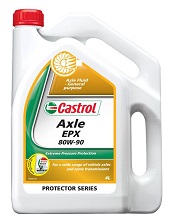 CASTROL AXLE EPX 80W-90
Extreme pressure, multi-purpose gear oil designed for the protection of heavily loaded steel gears. It is recommended for use in differentials, gear boxes and steering gears of passenger cars, light trucks, farm tractors and earthmoving equipment
Differential(s) - LSD Front Differential
Service Refill Capacity: 0.4 Litres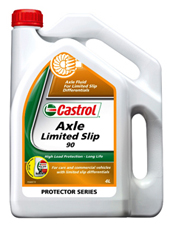 CASTROL AXLE LIMITED SLIP 90
best
Mineral gear oil recommended for cars and commercial vehicle axles operating under higher frictional loads, especially limited slip differentials and those experiencing clutch chatter. Meets Mack GO-J quality thermal stability requirement. SAE 90, API GL5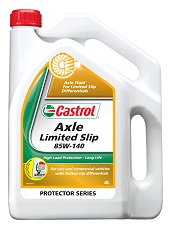 CASTROL AXLE LIMITED SLIP 85W-140
better
Mineral gear oil recommended for differentials, gearboxes and steering gears of heavier cars, trucks, farm machineryand earthmoving equipment. For all hypoid differentials where vehicle operates at very high loads. API GL-5, MIL-PRF-2105E, Mack GO-J, ZF TE-ML05C, API MT-1
Brake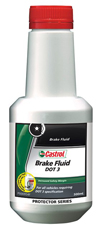 CASTROL BRAKE FLUID DOT 3
best
A heavy duty brake fluid suitable for use in disc and drum brakes where a dot 3 fluid is required.
CASTROL REACT PERFORMANCE DOT 4
better
Is suitable for use in all brake fluid systems in cars, and light commercial vehicles requiring either a DOT 3, DOT 4 or Super DOT 4 product (Not suitable for use where a mineral oil based fluid is specified).
Radiator
Service Refill Capacity: 4.3 Litres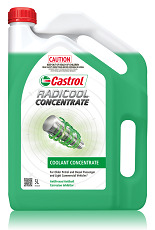 CASTROL RADICOOL CONCENTRATE
A fully formulated, ethylene glycol based coolant designed to meet the requirements of the majority of cars and light commercial vehicles with petrol and diesel engines. Use at 30 - 50% concentration as recommended by the vehicle manufacturer.
Recommendations are for Passenger Cars Only.
Not all vehicles will have a recommendation.
ANY QUERIES REGARDING YOUR REGO2OIL LUBRICANT RECOMMENDATION OR FOR FURTHER ASSISTANCE CALL THE CASTROL TECHNICAL HELPLINE ON 1300 557 998