KUBOTA [RIDE-ON] T1770
17 h.p. Petrol Engine, Hydrostatic Trans.
Engine
Service Refill Capacity: 1.7* Litres (Includes oil filter)
CASTROL GARDEN 4T 10W-30
Castrol Garden 4T 10W-30 is a modern engine oil for garden machinery with a formulation that ensures enhanced engine cleanliness and durability.
Hydrostatic Transmission
Service Refill Capacity: 3.6 Litres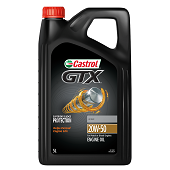 CASTROL GTX 20W-50
Castrol GTX 20W-50 protects against problems, like sludge, that your engine faces every day. Severe driving conditions such as every day stop-start traffic, harsh weather conditions and extended drain intervals, can all cause the build-up of a thick, tar-like substance called sludge. You can't see this sludge build-up but it can damage your engine's performance and cause premature engine failure.
Recommendations are for Passenger Cars Only.
Not all vehicles will have a recommendation.
ANY QUERIES REGARDING YOUR REGO2OIL LUBRICANT RECOMMENDATION OR FOR FURTHER ASSISTANCE CALL THE CASTROL TECHNICAL HELPLINE ON 1300 557 998